ClimateLectures
How do we deal with individual and collective responsibility? How is the Paris climate agreement compatible with the Sustainable Development Goals? What role do scientists play in climate communication?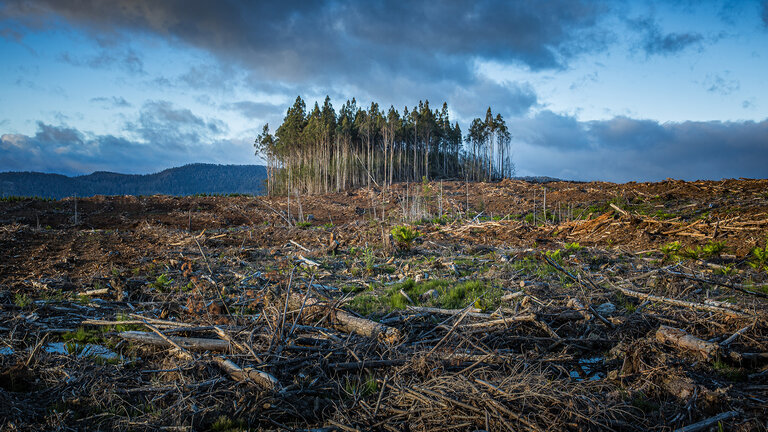 The earth-ecosystem has always been shaped by human influences. However, at the latest since industrialisation in the 19th century, this human influence has taken on another dimension, so that science now speaks of a new epoch on Earth, the Anthropocene. The changes caused by anthropogenic influence on the ecosystem are worrying, as they impact habitats enormously, and in many regions, the livelihoods of plants, animals and humans are destroyed. The world as we know it is in danger of falling apart. A decisive factor here is climate change, which is caused by increased emissions of greenhouse gases (such as CO2 or methane) caused by humans. But pollution of the environment, e.g. by plastics, has a greater impact on habitats and cycles in ecosystems than previously assumed.
To address the issue of global warming and human impacts on the environment, members of Die Junge Akademie have launched a series of events, "ClimateLectures", with which they express solidarity with movements such as Fridays for Future. The aim is to illuminate the observable and expected climatic consequences, as well as problems of avoidance and adaptation. In addition, members hope to address further questions arising at the interface between science and society: How do we deal with individual and collective responsibility? How is the Paris Climate Convention compatible with the goals of sustainable development? What role do scientists play in communicating climatic processes?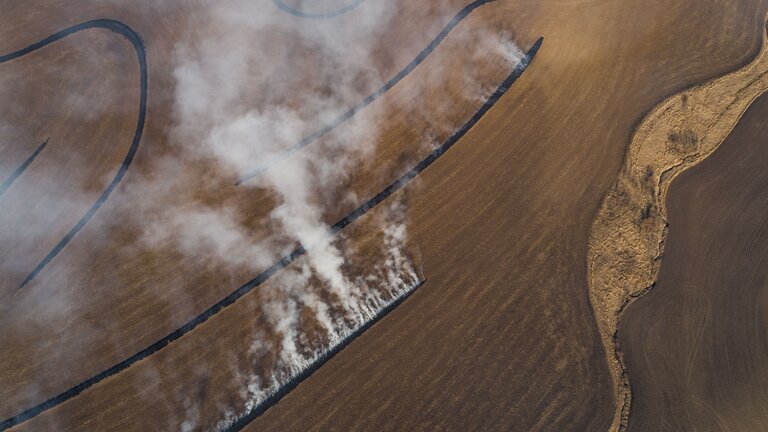 #9 Climate protection and the future of nutrition in Europe
Climate Protection and the Future of Nutrition in Europe
Monday, 16 October 2023, 6pm
Online via Zoom
The event language is German!
Hunger and obesity, the extinction of species and intensive livestock farming, international supply chains and regional crop failures: The global agricultural and food system is struggling with multiple crises that interact in complex ways with climate change. How can the future of food be shaped in Europe - and how will this affect the rest of the world?
Register here for the event. Event details will be mailed to you after registration. Please note: The event language is German.
The global agricultural and nutrition system is in crisis. The consequences of climate change and other environmental impacts are influencing agricultural production patterns, crop yields and food security - not only locally, but also along supply chains. This has become tangible for large parts of the population at the latest since the pandemic and the Russian war of aggression.
However, the crisis-like character of our global food system has been emerging for some time: one tenth of the world's population suffers from hunger, malnutrition and obesity exacerbate certain diseases in many countries and cause societal costs, the overwhelming majority of farm animals in industrialised countries live in intensive livestock farms, and agriculture, which is strongly affected by climate change, is itself the main cause of the extinction of species and contributes to climate change.
A global change in the agricultural and food system is urgently needed. But how are the burdens of the nutritional transformation to be distributed in order to create global food security? What future scenarios for sustainable food consumption are concretely conceivable in European societies? Which political measures can promote climate-friendly nutrition? What is the role of science in advising policy decisions on sustainability here in the EU?
The 9th KlimaLecture of the Junge Akademie will explore these questions and look at various possible solutions. These include diversification of trade relations and transnational adaptation strategies, education for sustainable development, a socially just pricing of the environmental costs of the consumption of animal products and steps to improve animal welfare.
The event is part of the Junge Akademie's KlimaLectures series and takes place in cooperation with the Scientific Advice Mechanism to the European Commission.
Schedule
18:00 Uhr Welcome and Introduction
Linus Mattauch (Die Junge Akademie/Technische Universität Berlin)
18:05 Uhr Auf dem Weg zu einer nachhaltigen Ernährung (Towards a sustainable diet)
Jutta Roosen (Technische Universität München)
18:25 Uhr Perspektiven auf die Zukunft des Agrarsystems in Europa (Perspectives on the future of the agricultural system in Europe)
Hermine Mitter (Die Junge Akademie/IAG Ernährung, Gesundheit, Prävention der Berlin-Brandenburgischen Akademie der Wissenschaften/Universität für Bodenkultur Wien)
18:35 Uhr Politische Ökonomik der Ernährungssystemtransformation (Political Economy of Food System Transformation)
Lukas Fesenfeld (Universität Bern)
18:45 Uhr Implikationen für das Klima (Implications for the Climate)
Linus Mattauch (Die Junge Akademie/Technische Universität Berlin)
18:50 Uhr – Discussion with the Audience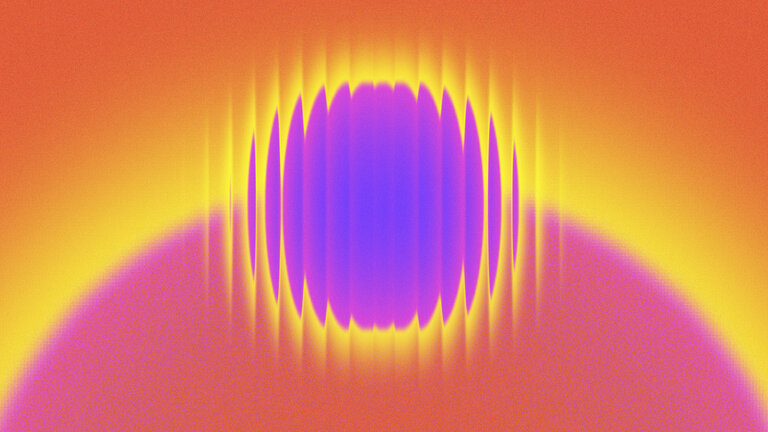 #8 Energy Markets and Climate Protection
Impulse lecture by Johannes Schmidt
and subsequent discussion with representatives of Die Junge Akademie
Tuesday, 28.03.2023, 18:00-19:30h
Online via Zoom
The climate crisis requires a fundamental transformation of our energy systems, as the largest share of human-induced greenhouse gases comes from the energy system. Therefore, a drastic reduction in fossil fuel emissions is urgently needed to achieve climate neutrality in the medium term - and thus prevent a further rise in global temperatures. The conversion of the energy system is technical, as it involves constructing, modifying and dismantling public and private infrastructures: thus, actors - often state or state-related - must ensure that the electricity grid is expanded, gas pipelines are dismantled or converted, and power plants are replaced. But private actors are also called upon to invest in energy-efficient buildings and low-emission means of transport or to rethink their choice of transport. Therefore, the energy transition also requires appropriate framework conditions to incentivise actors in the energy system to adapt their investments and behaviour to this challenge.
The energy price crisis, triggered by the Russian war of aggression on Ukraine, has once again highlighted the urgency of diversifying our energy sources. But it has also raised questions, both in the media and politically, about whether the European strategy of making many of these decisions in markets is adequate for our time's challenges. Alternatively, solutions that contain more collective and planning elements are often proposed: re-nationalisation of energy companies, price caps and floors, or state provision for energy storage.
But how do these different ideas of organising the economy affect climate mitigation? Are European energy markets climate-proof? What measures are already in place at the European and national levels to promote the energy transition - and which are still needed? Where do we stand today in the energy transition in Europe? What are the most significant challenges? What will future climate-neutral energy systems look like - and can they also function under today's market rules? These are the questions addressed by Die Junge Akademie's 8th ClimateLecture.
After a keynote speech by Johannes Schmidt, representatives of Die Junge Akademie will discuss these issues with him and the event participants. Johannes Schmidt is an Associate Professor in Energy & Resource Economics at the University of Natural Resources and Life Sciences Vienna. He researches issues related to the energy transition, particularly the economics of renewable energy, land use of renewable infrastructure and related social and environmental conflicts in Europe and South America. Johannes Schmidt is a member of the Young Academy of the Austrian Academy of Sciences.
Impulse lecture by Robin Celikates
followed by a discussion with representatives of Die Junge Akademie
Wednesday, 09.03.2022, 18:00-19:30h
Online via Zoom
Although the climate catastrophe is taken much more seriously in political discussions and decision-making processes today than before, the seriousness of the situation is still largely misjudged: Economic interests, complex political power constellations, short-sightedness and adherence to unsustainable lifestyles seem to stand in the way of an adequate response to this epochal challenge.
Against this backdrop, it is not surprising that activists are resorting to drastic means to convince the general public of the urgency of the challenge and to push politicians to act. Examples of this are protest movements such as Fridays for Future, Extinction Rebellion or, most recently, hunger strikers ahead of the federal elections in September 2021.
But how far can protest actually go in a democracy? What does the term civil disobedience mean? And under what conditions can even radical protest be considered legitimate? The 7th Climate Lecture of Die Junge Akademie addressed the question of the meaning and justification of climate protests.
After an impulse lecture by Robin Celikates, Eva Buddeberg, Hermine Mitter, René Orth, Florian Ziel and other members of Die Junge Akademie discussed this with him and the participants of the event.
Robin Celikates is Professor of Social Philosophy at the Freie Universität Berlin and Deputy Director of the Center for Humanities and Social Change. He currently studies civil disobedience, democracy, migration and racism. His publications include "Sozialphilosophie" (C. H. Beck 2017, with Rahel Jaeggi) and "Einführung in die Politische Philosophie" (Reclam 2013, with Stefan Gosepath). He is co-editor of the journal "Critical Times: Interventions in Global Critical Theory" and regularly contributes to public debates in newspapers, radio and online.
Tuesday, 23.11.2021, 18:00-19:30h
Online via Zoom
Extreme weather events are becoming more frequent all over the world. In Germany, too, heat records, violent storms and floods are increasingly common. The climate crisis is moving closer and closer to our everyday lives and is now threatening to impact us. Given these alarming facts, swift action would be necessary. However, governments and corporations are moving too slowly to implement the measures required to drastically reduce CO2 emissions, for example.
"We need a new radicalism in political action" - this is one of the central messages of Bernd Ulrich, deputy editor-in-chief of the weekly newspaper DIE ZEIT and co-author of "Noch haben wir die Wahl" (together with Luisa Neubauer, Fridays for Future). But why are decisions not being made on what would be necessary to solve the major global challenges of our time, such as the climate crisis or the extinction of species? And how can we achieve the necessary transformation of all areas of our lives and economies?
Representatives of Die Junge Akademie and the Bavarian Network for Climate Research (bayklif) discussed these and other theses with Bernd Ulrich at a joint event. After an impulse interview, Dr. Christian Hof, an alumnus of Die Junge Akademie and bayklif junior research group leader, Prof. Dr. Annette Menzel, professor at the TU Munich and scientific spokesperson of the bayklif network, and Prof. Dr. Linus Mattauch, research group leader at the Potsdam Institute for Climate Impact Research and member of Die Junge Akademie, discussed Bernd Ulrich's points of view with him.
The Bavarian Climate Research Network bayklif intends to strengthen research on the ecological and social consequences of climate change based in the Free State of Bavaria, Germany. To make its work tangible, the network enters into dialogue with interested people and launches the lecture series "KlimaDiskurse".
The idea for the format came from Die Junge Akademie with its "KlimaLectures" lecture series, which has been running since 2019. Together with Die Junge Akademie, the world's first academy for young scientists, bayklif is celebrating the launch of "KlimaDiskurse".
Impulse lecture by Dr. Sönke Zaehle followed by a discussion with members of the Junge Akademie.
Thursday, 9 September 2021, 6-8 p.m.
Online via Zoom
Changes in the Earth's climate have far-reaching consequences for humans and the environment. In order to stop climate change, it is necessary to have a sound knowledge of its complex causes in order to develop climate targets and ultimately concrete options for action for politics and society. Advisory bodies have long been established to shape and accompany this information process. One of these is the Intergovernmental Panel on Climate Change. It was founded in 1988 by the World Meteorological Organisation and the United Nations Environment Programme. The IPCC does not conduct its own research, but synthesises current research results. In this way, it documents what the scientific community agrees on, where there are differences of opinion and where further research is needed. The IPCC's assessment reports serve as information for the international climate protection negotiations and are therefore politically relevant but factually neutral. Since 1988, the IPCC has produced five comprehensive Assessment Reports and several Special Reports on specific topics. The reports of the current sixth cycle are expected in 2021 and 2022.
Dr. Sönke Zaehle is one of three directors of the Max Planck Institute for Biogeochemistry since 2020 and co-author of the 6th Assessment Report of IPCC Working Group I, Chapter 5 (Carbon and other biogeochemical cycles). He studied geoecology at the Technical University of Braunschweig and environmental sciences at the University of East Anglia in the UK and did his PhD at the Potsdam Institute for Climate Impact Research/University of Potsdam. After a stopover at the Laboratoire des Sciences du Climat et de l'Environnement in Gif-sur-Yvette, he has been working at the Max Planck Institute for Biogeochemistry since 2008. His work focuses on the interactions between climate and the global carbon cycle, and the development and evaluation of numerical global ecosystem models.
and subsequent discussion
Thursday, 14.01.2021, 6 p.m. – 8 p.m.
Online via zoom
Among the tipping elements in the climate system, are the ice sheets in Greenland and in the Antarctic, the great upheaval in the Atlantic, and the permafrost soils. These show a threshold behaviour: If they are strained beyond their respective critical limits by man-made climate change, strong and sometimes unstoppable and irreversible changes can occur – they tip over. Even the exceeding of individual tipping points would have environmental impacts that would endanger the livelihood of many people. There is also the risk of a domino-like chain reaction – such a "tipping cascade" would impair the overall stability of our Earth system.
Social tipping elements and tipping interventions are, in turn, mechanisms that could trigger the rapid spread of certain technologies, behavioural patterns and social norms. Some examples of tipping interventions are the abolition of fossil energy subsidies, while promoting decentralized energy production, the construction of greenhouse gas neutral cities, the sale of assets associated with fossil energy, the disclosure of possible moral dimensions of fossil energy, improvements in climate education, and a consistently transparent disclosure of greenhouse gas emissions.
Prof. Ricarda Winkelmann and Prof. Ilona Otto, both researchers at the Potsdam Institute for Climate Impact Research, will discuss the different dimensions of tipping elements in relation to climate change from their respective professional perspectives.
and subsequent discussion
Thursday, 22.10.2020, 18:00-20:00
Online via zoom
The digital transformation is in full swing - and it is changing and shaping the world of the 21st century like no other development dynamic. Dealing with and shaping digitisation is thus becoming a core task for the transformation of a globally sustainable development. But what path must digitisation take in order for it to make effective contributions to globally sustainable development? And what is the concrete approach to steering digitisation in the right direction? Dr.-Ing. Stephan Ramesohl reflected on these and other questions and discussed the approaches and possibilities of sustainable digitization with the members of Die Junge Akademie.
Dr.-Ing. Stephan Ramesohl studied industrial engineering at the University (TH) of Karlsruhe and economics at the Université Aix-Marseille II (Maitrîse de Science Economique) and received his doctorate in the Department of Electrical Engineering/Electrical Energy Systems at the University of Paderborn. Since 2019, Ramesohl has been co-head of the research area "Digital Transformation" in the Department of Environmental Services at the Wuppertal Institute for Climate, Environment and Energy gGmbH. His work focuses on the challenges, opportunities and policy approaches for a sustainable design of digitisation as well as digital solutions for the industrial transformation towards a climate-friendly and resource-efficient closed loop economy.
#2: ETHICS AND CLIMATE CHANGE, 24.01.2020
and following discussion with members of Die Junge Akademie
Friday, 24.01.2020, 18:00-20:00h
Einstein-Saal
Berlin-Brandenburgische Akademie der Wissenschaften
Jägerstr. 22/23, 10117 Berlin
Plastics have long since dominated the materials of our everyday lives. From toothbrushes to mobile phones to cars - the high plastic content of an almost infinite range of products is globally ubiquitous. While around 1.5 million tons of plastic were produced worldwide in the 1950s, today the figure is already over 400 million tons. The more than 250-fold increase within 70 years testifies to an overwhelming triumph on the world market.
Answers to these questions are currently under debate. Several civil-society actors are demanding drastic reductions in greenhouse gases already in the next few years. Conversely, some climate economists believe that such emissions should be permitted to continue increasing into the middle of the century. One reason for this controversy is built into the difference in understanding of how we should deal with uncertainty. Discord rules over the answer to the following question: What actions should we take if we cannot foresee the exact consequences thereof; knowing that many of these actions may harm third parties? Many climate economists and ethicists are convinced that the so-called "Expected Utility Hypothesis" may provide some answers to this ethical dilemma. This theory could be applied accordingly to establish climate targets. However, other scientists argue that the theory cannot be applied in this case, with such grave uncertainties regarding the consequences of climate change. They derive answers to the aforementioned ethical questions out of so-called "Precautionary Principals".
Climate ethicist Dr. Eugen Pissarskoi reflected upon how such recommendations concerning the uncertainties of climate change might be justified.
Pissarskoi studied philosophy and economics at the University of Mannheim and the Free University of Berlin, where he completed his doctoral degree on the topic of climate ethics. He worked for many years at the Berlin "Institute for Ecological Economy Research" and since 2017, he holds a position as a researcher at the International Center for Ethics in the Sciences and Humanities (IZEW), University of Tübingen, where he currently leads a research project concerning the fair organisation of a global bioeconomy.
The event is open to all interested parties and entry is free of charge.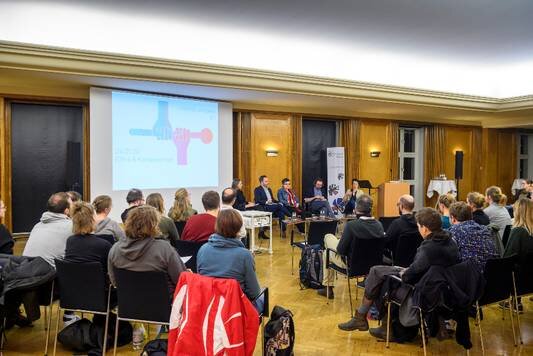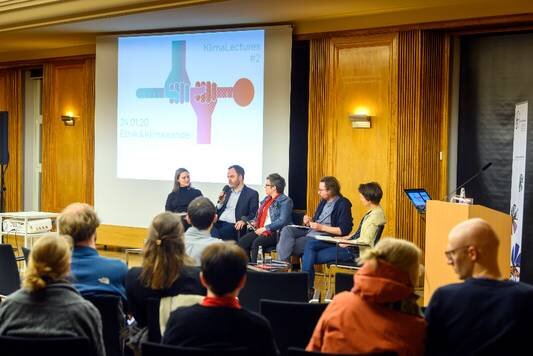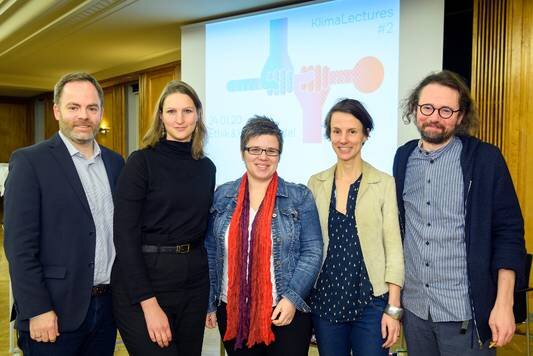 #1: MICROPLASTICS, 18.10.2019
Lecture by Dr. Thomas Mani
Friday, 18.10.2019, 18:00-20:00h
Einstein-Saal
Berlin-Brandenburgische Akademie der Wissenschaften
Jägerstr. 22/23, 10117 Berlin
Plastics have long since dominated the materials of our everyday lives. From toothbrushes to mobile phones to cars - the high plastic content of an almost infinite range of products is globally ubiquitous. While around 1.5 million tons of plastic were produced worldwide in the 1950s, today the figure is already over 400 million tons. The more than 250-fold increase within 70 years testifies to an overwhelming triumph on the world market.
In use, we appreciate the enormous resistance of plastic - in the environment, this becomes a major problem: it takes dozens to hundreds and even thousands of years for the products to degrade. Plastic is much more likely to splinter into ever smaller parts - in vast quantities of microplastic - and because new waste is constantly being added, plastic waste is constantly accumulating. Research teams are finding macroplastics and microplastics in every conceivable corner of our planet today. While mammals and birds are threatened by larger pieces of waste, i.e. via swallowing, microplastic particles can enter the digestive tract of smaller organisms, such as fish or plankton. There, mechanical and toxic hazardous consequences can unfold from base-component or adhering substances (plasticizers or pesticides). Such substances affect the entire food chain, and therefore humans are not immune to the shady sides of our miracle material.
Dr. Thomas Mani is a British-Swiss dual national. He studied geography and sustainable development in Basel and wrote his doctoral thesis on plastic pollution in river and marine environments. He was a guest scientist at the Alfred Wegener Institute, Helmholtz Centre for Polar and Marine Research and was on an expedition to the Antarctic with the research vessel Polarstern. Mani is currently advising various environmental organisations on microplastic issues. He currently works for the Swiss environmental NGO Pusch in Zurich.
The event is open to all interested parties and participation is free of charge.