Peer Review is a science simulation game for 4 to 6 Players. Its goals are to educate junior scientists and encourage self-reflection in established scientists, as well as to give a broader interested public some insight into the mechanics of the scientific system.
Peer Review originated from discussions in the research group Science Policy within Die Junge Akademie and was developed by Cornelis Menke.
Single copies can be acquired at a price of 16 Euro (packaging and shipping incl. within Germany) from the office of Die Junge Akademie.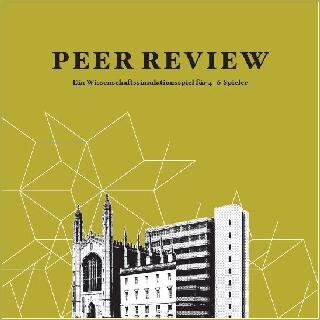 Weight: 650 g Dimensions: 19,5 x 19,5 x 2,5 cm Material: cardboard/paper Product Number: 0742832455015 Language: German/English Emphasis: strategy/negotiation Number of Players: 4-6 Game Duration: 1-2 hours
© 2015 Cornelis Menke / Die Junge Akademie
Activities
Have you ever thought of turning poetry into DNA? And then letting it mutate?

Topics:

2015