Practical Tips Less Travel
How can a reduction in travel in the everyday work of scientists be achieved?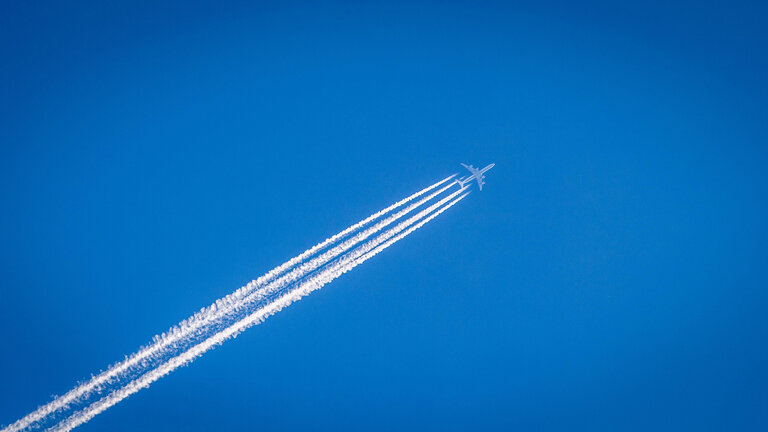 Practical tips for online meetings: personal experiences and tips
Technological and legal aspects
Microphone: Good audio quality is essential. When acquiring microphones for tables or desks it is important to make sure they meet requirements regarding distance and direction.
Headphones: Comfortable headphones, for example over-ear headphones, are recommended for longer meetings. (Semi-)open headphones are comfortable to wear. They allow air to pass through the ear cups, leading to greater heat exchange and spatial sound; however, some sound is leaked. Participating in meetings without using headphones can lead to echoes. So if you are not using headphones it is important to turn on the "mute" function when not speaking yourself.
Video: A good webcam is less important than a good microphone. All teleconferencing software allows you to see your own image. You should do a brief check to make sure that you are clearly visible – including your hands and face – so that other meeting participants can easily see the majority of your body language and gestures.
Laser Pointer: It is important to use a virtual laser or mouse pointer when giving lectures. Make sure to test it beforehand.
Handwritten notes (paper): With some tools (e.g. Zoom) you can connect to an additional phone or tablet that allows you to record handwritten notes and share them with others. Phone stands can easily be made using the cardboard from toilet paper rolls. Alternatively, a second webcam can be used.
Handwritten notes (tablet): Pen tablets are operated using an electronic pen that guides the mouse pointer. The tip of the pen recognises when the pen touches the tablet (and interprets this with a "click"). In this way you can "write electronically".
Conference tool: It is important that the tool provides the following possibilities: Participation using all popular operating systems (Linux, Windows, Mac), screen sharing, non-verbal communication, breakout sessions, voting, personal chat. We have had positive experiences with Zoom. There are, however, well-known problems regarding privacy. For more information see, e.g., schneier.com. Here is a list of other tools. We recommend testing them in advance to make sure they offer all the above features. conf.dfn.de, webex.com, hangouts.google.com, skype.com, products.office.com
International access: Before holding the online meeting, make sure the tool is fully functional in all countries in which participants are located. You may need to be flexible when choosing which tool to use.
Firewall: Some institutions have their own specially secured firewall system. This should be checked in advance.
Password: We recommend using a password to secure your meetings.
Consent: Many online tools allow you to automatically obtain consent for video and audio recordings.
Moderation and etiquette
Moderation: Participants in online meetings are often more reserved. Clear moderation can help with this.
Focusing: It is important to consciously engage with the meeting. Many people lose focus more quickly when they think they are unobserved. So it can be a good idea not to turn off the video. This also helps the speaker, as they can see some of the participants' faces. Some participants say that they find it easier to concentrate on online meetings as there is no distraction from the immediate surroundings (unlike, for example, in a lecture hall or seminar room).
Questions: A chat that runs parallel to the lecture should be used in a well-thought-out way, for example for questions that arise during the lecture and which can be directly integrated by the moderator.
Parallel discussions: Some participants like to start parallel discussions, commentary, etc., in the chat. This can lead to interesting discussions, but can also be a distraction. The moderator should communicate clear rules on this point.
Technical assistance: Alongside the chair of a session, it can be beneficial to have technical assistants to ensure, for example, that late participants can join the call.
Real names: Users should use real names. Ideally, users identify themselves to prevent anyone claiming to be someone they are not.
New ways of interacting
Breakout sessions: Automatically generating many, randomly selected breakout sessions can replace coffee breaks. During lessons these sessions can replace conversations with one's neighbour ("Discuss this question with your neighbour and try, if necessary, to convince them of your answer.").
Non-verbal communication: Ways to virtually raise one's hand; emoticons are a useful way to quickly assess the mood or views among participants.
Virtual worlds: Virtual spaces enable new forms of interaction. See, e.g., gather.town. It offers possibilities for keynotes, poster sessions, etc. You can often create your own environment.
Streaming: If conference lectures are streamed and questions can be asked using the chat function, it is important that there is no time delay and thus no waiting time between the end of the lecture and the round of questions. Alternatively, questions can be read out.
Feedback: Many online tools offer good ways of giving quick and simple feedback (e.g. thumbs up or "yes/no" in Zoom). Speakers can make use of these during their lectures to get a quick overview of the general mood, for example as to whether the lecture speed is appropriate. When used in a well-thought-out way, this kind of online feedback may even give a more accurate impression of how the lecture is received than is possible in "traditional" lectures.
Chat and Padlet: In our experience, having the chance to type questions into chat reduces inhibitions when it comes to asking questions, particularly in the case of students and PhD candidates. This can even lead to participants being more actively involved in a workshop or seminar. Padlet allows users to pose questions anonymously and up- or down-vote them.
Introductions: In the case of workshops with up to 50 participants, an informal round of introductions is possible, starting about 30–40 minutes before the workshop itself. As the workshop participants gradually log in to the videocall, initial, informal interaction takes place. Unlike "traditional" meetings, where at the beginning participants often only greet other participants they know, online a broader "mixing" of all participants can take place right at the start.
Videos: It has often been observed that participants interact more when all of them are taking part in online events using video. For this reason, it is a good idea to ask all participants, if possible, to turn on their cameras.
Reports on the experience of virtual conferences
Activities
Die Junge Akademie veröffentlicht Stellungnahme "Vorschläge für einen nachhaltigeren Wissenschaftsbetrieb durch Reduzierung der Reisetätigkeit".

Topics:

date

28.10.20

Mitglieder der Jungen Akademie geben praktische Tipps, wie eine Reduzierung der Reisetätigkeit im Arbeitsalltag von Wissenschaftler*innen gelingen kann.

Topics:

date

28.10.20